NURTURING A GRANDPARENT AND GRANDCHILD RELATIONSHIP WHILE IN ASSISTED LIVING IN ACWORTH
Grandparents and grandchildren share a special bond. Nurturing and preserving that bond while your parents are in assisted living is important for both grandparents and grandchildren. There are many options and opportunities for encouraging lasting relationships while your parents are in assisted living in Acworth, GA.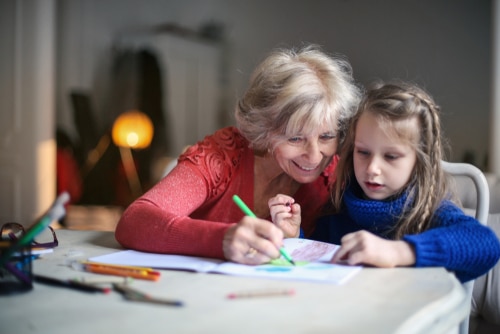 A strong relationship between grandparents and grandchildren has proven positive effects on both parties' psychological well-being, which can last long into the grandchild's adult life. A grandparent can play many roles in their grandchild's life including being their role model, playmate, teacher, nurturer, and family historian. While it may seem challenging at first, while a grandparent is in an assisted living facility, growing the emotional bond between them and their grandchildren is extremely important.
Before taking a child to visit their grandparent, it is important to prepare them for what to expect and any rules they might need to follow. Explain their grandparent's condition, any topics to avoid, what to expect in the facility, and any rules they need to keep in mind. Answering any questions your child has will help prepare them and understand the situation better.
Here are some tips for encouraging a lasting relationship between grandchildren and grandparents:
Stay in Contact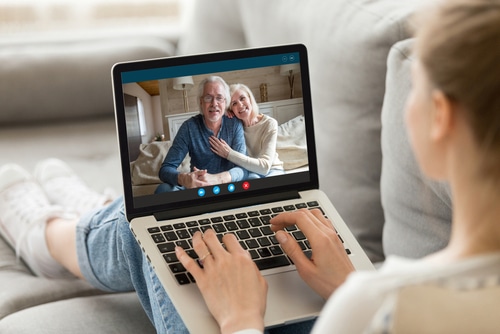 Increasing the frequency of contact between a grandchild and a grandparent will help nurture their relationship. Face-to-face contact is the best option for this. Visiting a grandparent in assisted living will boost their mood and strengthen their relationship.
In-person visits are not always an option though due to distance, time, and illness. You can encourage contact between your child and parent in others ways, as well. Regular phone and/or video calls will help increase contact and let both parties stay in the loop on the other's life. You could also encourage your child to send their grandparent handwritten letters, cards, and drawings.
Share Special Activities
Try to find special activities that both grandchild and grandparent can participate in. Consider the age and condition of both parties when planning and choosing an activity. A stronger bond will form through sharing these moments, lasting memories will be created, and shared interests and hobbies might be found. Some activities that could be enjoyed together include solving a puzzle, doing crafts, watching movies or television, reading to each other, or taking a walk.
Swap Stories
Grandparents and grandchildren sharing stories about their lives will help the other gain a deeper understanding and appreciation for them. Grandparents can share stories about their experiences as a child, their career path, hobbies, raising their children, and their experiences from being a grandparent. Children can share about their schoolwork, hobbies and extracurriculars, friends, and home life. Telling each other stories and sharing experiences will help them bond and strengthen their relationship.
ASSISTED LIVING IN ACWORTH, GA
Placing your parents in an assisted living facility in Acworth can allow them to live in a fulfilling and comfortable environment, while still being connected to the family. We understand that you want the best for your aging parents, especially now that they have reached their golden years. At Dogwood Forest Acworth, that's exactly what they'll get: a better assisted living environment that will have a positive impact on their health and wellbeing.
Your elderly loved ones deserve to live their lives in an environment where they are accepted, valued, and cared for. That's exactly what they'll get at Dogwood Forest. For more information and to learn more about our services, contact us or call us at 770-350-7833 today.