Dogwood Forest Assisted Living Communities operates communities all over the Metro Atlanta area. This is one of the most competitive markets for assisted living, so Dogwood Forest has taken a different approach. Every aspect of their communities, down to even the furniture in the common areas, has been thoroughly researched to be optimal for seniors.
The smallest details in an environment can drastically affect moods and residents' health. Dogwood Forest considers this fact and creates communities that improve the mental, emotional, and physical health of every senior who lives there. Here are just a few ways they do so:
SUNLIGHT: A KEY TO HEALTH
Too many assisted living communities and retirement homes utilize fluorescent lighting throughout their communities. That cold, harsh light can do more than drag down residents' moods. It can also be physically painful, causing headaches and migraines. The seemingly logical solution is to use incandescent light bulbs instead; however, even these warm lights have their faults. They can flicker and hum, which can also cause the same side effects as fluorescents.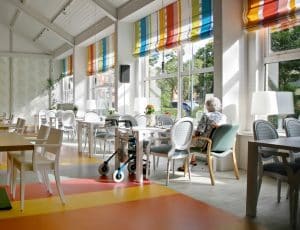 Instead, Dogwood Forest incorporates as much natural lighting into their communities as possible, as evidenced in the soon-to-open Grayson site. Each building has large windows to allow ample sunlight into each room. Doing so has been scientifically proven to improve health, even boosting the immune system. When actual sunlight isn't an option, rooms are made with tall, vaulted ceilings with lighting that mimics the sun's rays while not being overbearing.
MAINTAINING MENTAL HEALTH
A key issue many seniors face is failing mental health, evident in conditions like dementia and Alzheimer's disease. The caretakers at Dogwood Forest have found that activities like gardening can slow the progression of such conditions. They have also created "life skills stations," which allow residents to relive and, therefore, hold onto memories that may otherwise slip away.
Life skills stations allow residents to handle equipment like fishing reels and other tools that remind them of their younger years. When seniors can carry on with simple activities like gardening or simulated fishing, they are much more likely to retain memories of years gone by.
When a resident or visitor walks into a Dogwood Forest community, one of the first things they notice is the aquarium, which is the centerpiece of the common area. Besides looking nice, the aquarium actually has benefits grounded in science. The mental stimulation of watching the activity of fish has been proven to decrease stress and anxiety levels — which is why doctors often have aquariums in their waiting rooms. In addition, residents with Alzheimer's who interact with a fish tank actually eat more and are noticeably less aggressive.
DESIGNED FOR COMFORT AND EASE OF LIVING
When Dogwood Forest first opened, it broke the standard set by other communities by purposefully designing for the comfort of seniors. The communities don't look like retirement homes; no medical equipment is in the open, and the walls and floors are not harsh white. Rather, it appears as a massive mansion where everyone has their apartment. They have found that the more their communities look like home, the easier it is for residents to transition into their new environment.
But beyond just aesthetics, the communities are designed for easy living. The floors are hardwood, making it easy to clean spills. The fabric of the standard furniture is also generally waterproof for the same reason. All seats are slightly elevated and more ergonomically designed for seniors to get in and out of more easily. They have found that, without proper support, residents are more likely to get injured.
At the end of the day, Dogwood Forest has found that their residents' health and comfort can and should be based on science. By doing so, they ensure their residents can fully enjoy their Golden Years in a place where they know they are safe and help is always available. For more information about our locations and our services, contact us today.